Kurin, Inc. Named 2023 Diverse Supplier of the Year by Vizient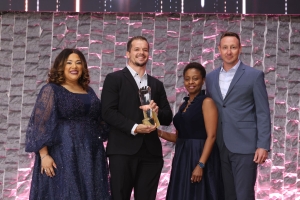 Kurin, Inc. has been named the 2023 Diverse Supplier of the Year by Vizient, Inc., the nation's largest provider-driven healthcare performance improvement company. The recognition was celebrated Sept. 18-21 at the 2023 Vizient Connections Summit in Las Vegas.
The Diverse Supplier of the Year award recognizes a certified minority-, woman-, veteran-, LGBT-, or disabled-person-owned supplier who has performed at the highest level in demonstrating year-over-year growth within Vizient-contracted customer spend while maintaining responsiveness to customer needs. This year, Vizient recognized Kurin for excelling in philanthropy, sustainability, performance in ethics and integrity, participation in Vizient events, and adherence to reporting and payment requirements.
"We are pleased to receive this award from Vizient," said Bob Rogers, Inventor and CEO of Kurin. "From the time we started this company, our goal has been to make a difference by improving clinical outcomes and helping hospitals financially, as well as being good citizens along the way. We work with many Vizient member hospitals in these shared goals and look forward to continuing to do so for many years."
"We are pleased to recognize Kurin as this year's Diverse Supplier of the Year. Kurin has delivered on our provider customers' needs to optimize cost, quality, and market performance," said Simrit Sandhu, executive vice president, clinical supply solutions, Vizient.
Kurin's revolutionary approach to the contaminated blood culture problem is based on elegantly simple, intuitive designs that require no additional user steps. Kurin Lock® and Kurin Jet™ both sideline potential contaminants during blood culture collection and provide a better and more sustainable approach than active, conventional mechanical diversion. Contaminated blood cultures are a significant problem, as roughly one-third of the positive results are wrong, exposing these patients to unnecessary antibiotics, extending hospital stays, and impacting larger community health issues, such as antimicrobial resistance and life-threatening C. diff. infections. Kurin Lock and Kurin Jet give clinicians the tools they need to address these problems.
About Kurin, Inc.
Kurin Inc., a certified Minority Business Enterprise (MBE), is focused on the design, development, manufacture, marketing, and sale of products that help healthcare providers reduce contaminated blood cultures. San Diego-based Kurin has received FDA 510(k) market clearance. For more information, visit the website at www.kurin.com.
https://www.kurin.com/wp-content/uploads/KurinLOGO.png
0
0
webmin
https://www.kurin.com/wp-content/uploads/KurinLOGO.png
webmin
2023-09-27 03:00:00
2023-10-11 20:17:34
Kurin, Inc. Named 2023 Diverse Supplier of the Year by Vizient