Stay tuned, there is more to come in:
0
Weeks
0
Days
0
Hours
0
Minutes
Need more information? Click here to connect with Kurin.
Kurin was named to Inc.'s inaugural Best in Business list in the Prosperous and Thriving category.
Inc. created the Best in Business Awards to honor privately held American businesses that have made a positive impact on their communities, their industries, the environment, or society as a whole.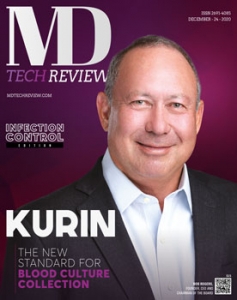 Kurin, Inc. was honored by MD Tech Review in annual listing of top Infection Control solutions.
MD Tech Review named Kurin to its annual listing of 10 companies that are at the forefront of providing Infection Control solutions and impacting the industry.
The problem with false-positive blood cultures
Determining whether a bloodstream infection exists is critical to the wellbeing of patients and the financial health of hospitals.
A blood culture test is the gold standard for identifying bacteremia.
Each year, millions of blood culture tests inform patient care decisions in the U.S. The majority will find no infection.1 But, of the cultures that test positive, almost 1/3 are false-positive results.
When blood cultures test positive—whether true or false—immediate action is taken to treat the patient with antibiotic therapy.
Roughly 20% of the microbes present in skin reside deep in the dermis layer and may be drawn into blood samples.2 Without a way to avoid these microbes, hospitals have accepted high rates of seemingly unavoidable false positives.
Centers for Medicare and Medicaid Services (CMS) Takes a Stand
Final rule 42 C.F.R § 482.42 to amends the Conditions of Participation:
"A hospital's infection prevention and control and antibiotic stewardship programs be active and hospital-wide for the surveillance, prevention, and control of [hospital acquired infections] and other infectious diseases, and for the optimization of antibiotic use through stewardship."
By Spring 2020, Hospitals must "demonstrate adherence to nationally recognized infection prevention and control guidelines for reducing the transmission of infections, as well as best practices for improving antibiotic use where applicable, and for reducing the development and transmission of HAIs and antibiotic-resistant organisms."
What is your plan?
Learn more about Blood Culture Contamination and Clinical Best Practice
Just like the boy who cried wolf, high numbers of false positive results cause physicians to question the test, compromising a fast and appropriate response. Hear experts explain the consequences of blood culture contamination.
This essential resource for nurses and phlebotomists explains the importance of blood culture testing, its current shortcomings associated with culture contamination and clinical best practice recommendations.
REFERENCES:
1 Zwang O, Albert RK. Analysis of Strategies to Improve Cost Effectiveness of Blood Cultures. J Hosp Med. 2006 Sep;1(5):272-6.
2 Garcia RA, Spitzer ED, Beaudry J, et al. Multidisciplinary team review of best practices for collection and handling of blood cultures to determine effective interventions for increasing the yield of true-positive bacteremia, reducing contamination, and eliminating false-positive central line-associated bloodstream infections. Am J Infect Control. 2015 Nov 1;43(11):1222-37.